About
Us
At Zafar Judicial Academy, We provide Specialised Training to our Students that help them excel at Judiciary & other Law Entrance Exams.
India's Leading Online Judiciary Coaching Institute.
Read More
Swapnil
Preliminary Delhi Higher Judicial Service 2020
Harshna
Public Prosecutor - Special Crime Branch Delhi
Sachin
Officer in Haryana, cleared Haryana Judiciary Exam 2020- 21
Aman Garg
Preliminary, Mains Haryana 2020- 21
A
Why
Choose

Us?
Best Judiciary Coaching in India
Online Judiciary Classes
Learning does not stop at Zafar Judicial Academy . We provide online courses for aspirants for distance learning or working individuals.
Specialist Faculty
Zafar Judicial Academy believes in specialisation and that's why we have faculties with years of practical experience in their respective fields.
Flexible Timings
Zafar Judicial Academy allows its students to attend more than one batches in order to prepare at their own pace for judiciary exams.
OUR
Mentors
Zafar Judicial Academy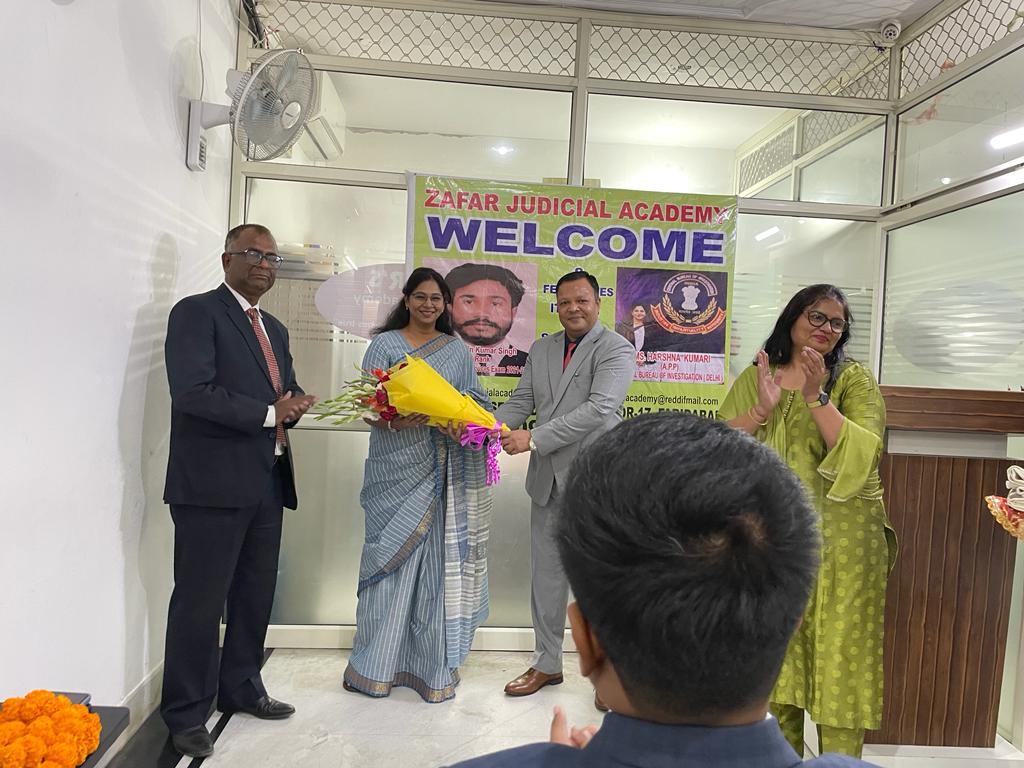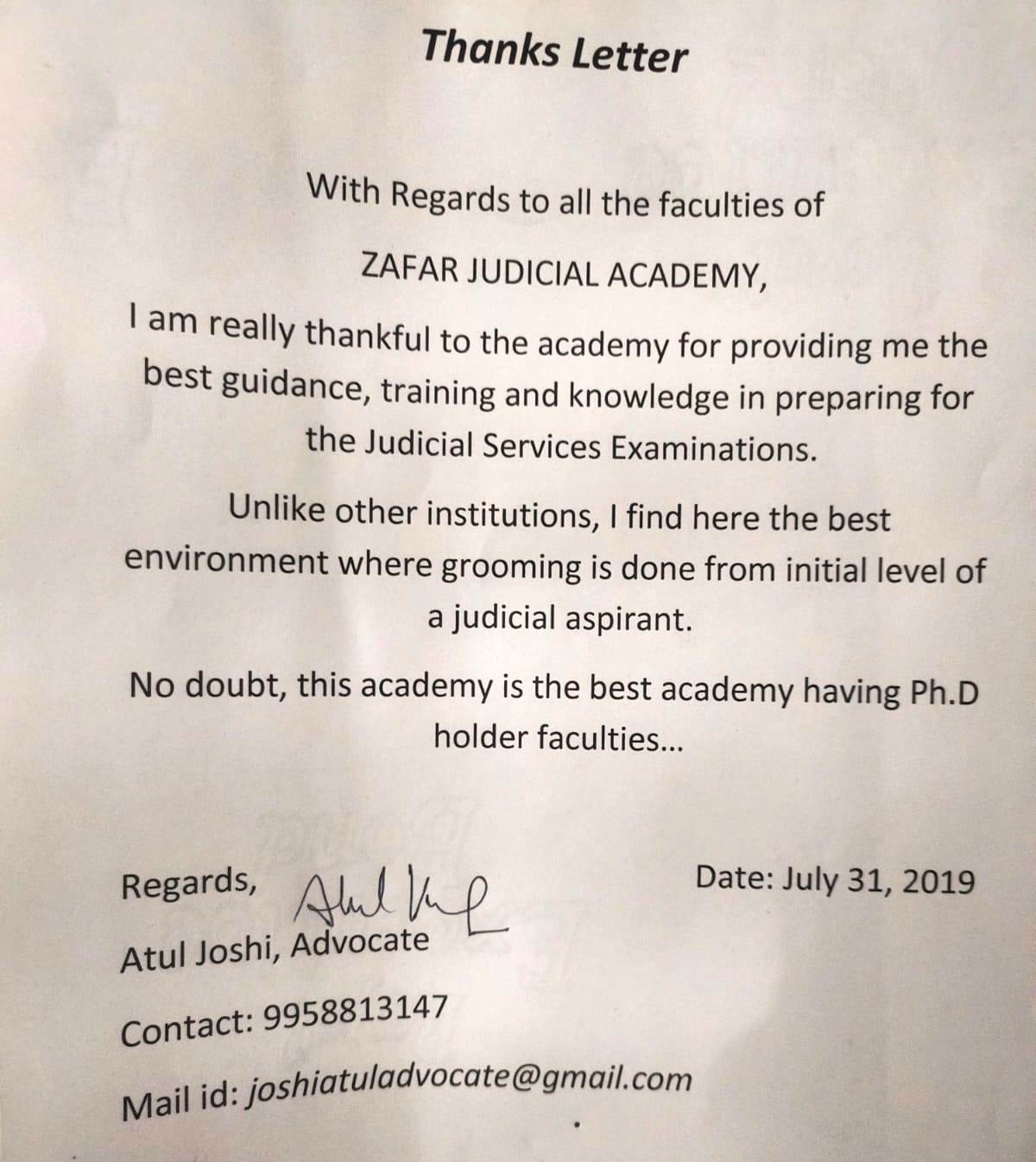 Register For
Coaching

For Judiciary
Zafar Judicial Academy provides Judiciary & CLAT coaching.
Read More
Register

Free Coaching For Judiciary
Our
Student's

Say
Student and Parents Opinion
I am highly thankful to my teachers and Zafar Judicial Academy family. They have always provided me the best possible resources online or offline. The interview guidance program is their best feature. I have found Zafar Judicial Academy worthy for my Judicial Exam Preparation.
I own my success to Zafar Judicial Academy. They have excellent faculty. They have a proper schedule that they implement rigorously. Their crash course, test series, and interview.guidance program are the best features.
I was supported every step of the way. The homely atmosphere at Zafar Judicial Academy was instrumental in my success. No question was ever left unanswered. It was only due to their respective guidance that today I Am Public Prosecutor in Special Crime branch and I have been posted in Delhi.
The teachers of Zafar Judicial Academy are highly qualified and have a good hold on the subject. They always clear all the doubts of every student. Here the classes are interactive and teachers are always available to clear all doubts or explain any provision. I am feeling blesses that I joined Zafar Judicial Academy and got the guidance from such esteemed teachers who helped me to achieve my goals.
Our
Blog
See Our Recent Blog
ONLINE JUDICIARY COACHING
Zafar Judicial Academy is one of the most innovative online Judiciary coaching. We feel immensely proud to announce our online coaching for judicial services. The Zafar Judicial Academy understands the need of the hour. If our students unable to attend our offline lectures for any reason, they can access easily in our online classes to attend their left-over lectures through a simple click at our official application.
This led us to reach even more students who want to achieve their dreams of becoming a respected judiciary official. It also helped our online course existing students, now they can access our online judiciary coaching classes at their pace.
Our online coaching for judiciary has covered various areas for the betterment of learning of our judicial aspirants. We provide daily live lectures and real-time doubt clearing sessions.
To watch Live classes at their own convenience, Students can access easily by downloading our official App/Application. We provide exam-oriented notes related to live classes. It helps students to revise the classes later. We are also the pioneer of online test series in the judiciary coaching industry.
Through the competitive and advanced online test series, we have created revolution in the industry. Students can also take these tests via android phones, tablets & iphone by login at our official Application/App.
We make sure that our students learn from the best. That's why we have hired highly qualified faculty who created the best study material with your help. Our online coaching for judiciary is interactive and our application interface is user friendly.
We have two programs available for online judiciary coaching to become a more accessible platform.
1. Complete Online Learning
2. Online+Offline learning program for judicial services
Students can attend our classroom program for 14 months. This also gives them access to online coaching programs.
About Zafar Judicial Academy Judiciary Coaching

in Faridabad

Zafar Judicial Academy is among the leading institutes for judiciary coaching in Faridabad. We encourage students to learn the importance of the Judiciary and the Judges in the country. Our teaching faculty of the judiciary coaching is among the most respected faculty of judiciary coaching.

At Zafar Judicial Academy, we use innovative methods and techniques for teaching students to enhance their knowledge. Our aim is to provide overall development and give concept based lectures that help them perform better in the judiciary and other law entrance exams.

We have exclusive study material for students. This study material has been formed by extensive and deep research. We have kept the language simple and easy to understand. It helps the students learn better and gain the proper knowledge that will help them perform amazingly in the judiciary entrance exam.

We are aware of the competition in the field and we know how difficult it is to give an exam and stay motivated for the same. We help students with this dilemma. Our expert faculty of judiciary coaching consult and motivate them to set a goal and achieve it at any cost.

We also provide test series to students. With the help of it, they can access the study material on their laptops or mobile phones anytime, anywhere. Zafar Judicial Academy has taken a leap in our vision of paperless study. It will help in improving the interaction between a student and the faculty by providing smart tablets to study. This is the first time any coaching institute has done it.

"Be the master of your own destiny." Choose your path and follow your dreams with Zafar Judicial Academy and create a successful future. Plan your first step towards your goal with us and achieve your dream. "Give wings to your dreams with Zafar Judicial Academy. We are one of the leading as well as top judiciary coaching in Faridabad. We have guided thousands of students in achieving their dreams.

Zafar Judicial Academy offers judiciary, CLAT, LLB, IAS Mains, LLB Subjects, APO/ APP (Hindi and English) preparatory courses to the young aspirants. With the changing trend and high competition in these competitive entrance exams, it has become tough for the students to keep themselves updated and prepared.

Here at Zafar Judicial Academy academy, students are trained and groomed in a way that they can pave their own way and could survive in tough competition as well. Zafar Judicial Academyacademy pays equal attention to theoretical and practical aspects of these competitive entrance exams. We prepare students in every aspect to face all challenges of the tough competitive exams. Our expert faculty is laced with the latest communication tools and technologies that are required to excel at judiciary entrance exams.

Zafar Judicial Academy is the best judiciary coaching in Faridabad. In the last few years, we have built a brand dedicated to providing quality judiciary exam preparation and training to the students. We provide the most comprehensive judiciary coaching to the CLAT aspirant and to help them crack the respective entrance exams. Our core policy consists of putting students first i.e. interest of the students is our priority. We work for students and their welfare.

The team of successful experts from the same field ensures that students get personalized attention to overcome weaknesses. We help ourselves accountable for the success of our students. Our methods and techniques keep on evolving and improving along with the time. Zafar Judicial Academyis indeed the best coaching center for Judiciary and other law entrance exams.

In the field of Judiciary CLAT, LLB, IAS Mains, LLB Subjects, APO/APP education, Zafar Judicial Academy boasts of being one of the best judiciary institutions in India. We provide a platform to students to make a respectable career in the field of judiciary. Self-awareness is something that we teach our students. Everyone is not the same in terms of appearance, mental abilities, zeal towards success. We understand that. Hence, we have created an environment that focuses on improving individuals. We believe in bringing self-awareness to our students only then can truly know the correct path to career and future success.
Best Judiciary Coaching

in Faridabad

Some are old, some are new, some are well renowned and some are struggling to be ahead in the chase of the establishment. Choosing the best one among them all is such a difficult task to do for a Judicial Services aspirant. Most of the institutes are still stuck to the old traditional methods of judicial services coaching. Here, Zafar Judicial Academy comes up with something new and useful. It is the only Institute for judiciary coaching in Faridabad. It is using the best of teaching methods and mixing it up with technology to help students achieve their targets.

The only motto of Zafar Judicial Academy - Judiciary Coaching in Faridabad is to ensure that the aspirant gets the result. We focus more on the process of learning so that aspirants can fulfill their dreams. In order to Achieve we have taken the following measures :-

Specialised Teachers for Judiciary Coaching

We believe that a single teacher can't teach all the subjects of the judiciary. Each subject is so vast and diverse that it would take a superhuman to learn all those subjects. That is why we have the most experienced and qualified faculty members for each and every subject. This is the reason why our students get valuable exposure to different subjects by the respective teachers.

Online Test Series

One of the most special features of Zafar Judicial Academy is the online test series for Judiciary. We are also the pioneers of it in India. This is an initiative by Zafar Judicial Academytowards digitalization. The online test series helps judicial services aspirants to compete on the all India level and achieve the rank. This exercise helps students to evaluate and introspect themselves in real-time. We are the first Judiciary Coaching Institute in India to start this online judiciary test series for the betterment of students. Everyone can access this online test on our portal. This initiative makes us the best coaching for Judiciary in India in terms of every aspect. We believe that quality education should be distributed to all students that is why we support our students in every possible manner.

We are the fastest growing Judicial Services Coaching centre in Faridabad. We have achieved this milestone with the perfect blend of hard work of our faculty and students. Zafar Judicial Academy provides offline and online judiciary coaching in Faridabad. Come! Join us and experience the difference.
Career in

Judicial Services

In India, PCS (J) Provincial Civil Service-Judicial Examination is one of the most essentials entry-level exams for law graduates to appoint as members of the subordinate judicial system of the state government under the direction of the respective high court. Further, the members of the subordinate judiciary inhabited the offices of the presiding officers of most respective courts right up to the post of District Judge.
Perquisite of a Career in Judicial Services:
There are many specific and attractive features of this highly rewarding judicial services job such as including handsome salary, perks and allowances, medical privileges, telephone allowances, bursaries for their children's education and many more other allowances. That are remarkably better than those of civil service officers.
Salary of Judge:
Generally, the average salary of a Judge is around 1,325,000 per annum. The table below has given the average salary of a judge which might be changed and depending on the job profile.
The average salary of Judge (per annum)
Entry-Level Salary
Mid-Level Salary
Senior-Level Salary
Rs. 7,00,000
Rs. 10,00,000
Rs. 30,00,000
Roles as a Judge:
Lets' have check out the various different job roles or profiles as a Judge:
1. District Judge
2. Sessions Judge
3. Civil Judge
4. High Court Judge
5. Supreme Court Judge
6. Author etc.
Selection Procedure
The procedure of the selection judicial services has two entry levels will be done in three following stages:
1. Prelims examination
2. Mains
3. Interview/Personality test
Here is a general overview given below related to Indian Judiciary Examinations which has two entry levels such as - Higher Judiciary Exam & Lower Judiciary Exam:
| | |
| --- | --- |
| Examination Name | State Provincial Civil Service-Judicial Exam (PCS J) 2022 |
| Mode of Application | Online |
| Mode of Exam | Offline (Pen & Paper Based) |
| Mode of Exam | Offline (Pen & Paper Based) |
| Conducting Body | State Public Service Commission/ Different Exam Conducting Authorities |
| Exam Type | State Level Exam |
| Selection stages | Three (Preliminary, Main, Interview) |
| Minimum Age | 21-35 years (For Lower Judiciary & 35-45 years ( For Higher Judiciary) |
| Eligibility Criteria | LL.B degree and Indian Citizenship |
| Experience for Higher Judiciary Exam | Minimum 7 years of litigating practice must be required |
| Experience for Lower Judiciary Exam | There is no experience required |
Online/offline preparation to make career in Judicial Services:
In this digital era, Zafar Judicial Academy is very popular for online/offline classes among the law students who wish to make their career in Indian judiciary. We are known for our best results that assure the success at your pace. Here is the numbers of successful results such as in –
Zafar Judicial Academy provide the crash course programs for particular states Judicial Services Exams. In which, we provide the exam oriented and dedicated sessions which are helpful for Prelims, Mains and Interview.
Here, Zafar Judicial Academyprovides exam specific small batch size online and offline judiciary classes for their aspirants by our expert faculty. We focus on state-wise bifurcated study material.
We provide all states judiciary special marathon classes and tests series for prelims and mains.
Provide mock papers or question papers at our official application/App where you know your nationwide rank and can analysis your weak or strong areas.
In addition, we provide the latest landmark judgments, case laws and monthly current affairs magazines regularly to cover the general awareness part to get sure selection.
TJudiciary aspirants can register at our official website to know more by clicking on the given link or can visit at our office.
OFFICIAL DETAILS
Address
SCF No. - 94, Second Floor, Sector-17, Faridabad
Contact number
+91-8587860090, 0129-4878581
Official Website
http://zafarjudicialacademy.com/
Judicial Services

Examination 2022

PCS (J) - Provincial Civil Service Judicial Examination is the most coveted Competitive exam among the law aspirants. Aspirants who planning to appear in the upcoming recruitments related to this most prestigious post of Indian Judicial System then you are at the right path. Here, Zafar Judicial Academy guides you to get success to become a part of this system. The first step that needs to be taken is to select the desired state and apply for that and gear up your exam preparation with a strategic approach to achieve your goal.

As we all know that, different states have their own recruitment criteria which are varies from state to state. So, there is a general overview given below to understand the Eligibility & exam pattern of this examination.
Judicial Service Examination Eligibility Criteria 2022
Services
Higher Judiciary Services
Lower Judiciary Services
Educational Qualifications
LL.B
LL.B & enrolled as an Advocate under the Advocates Act, 1961
Age
35 to 45
21 to 35
Experience
Minimum 7 years of litigating practice must be required
No Experience Required
Note: Indian Citizenship must be required to apply for the civil judge exam 2022.
Selection Procedure for PCS (J)
The Judicial Services Exams or PCS (J) is conducted in generally, three stages. They are:
1. Preliminary Examination: Objective type questions
2. Mains Examination: Subjective (written answers/descriptive)
3. Interview: Evaluate personality, decision-making power and prompt knowledge etc.
Details of Upcoming Judicial Services Examinations 2022
If you desire to become a part of Indian Judicial System then you have to select any of the state and clear the Judiciary Exam. Here, Zafar Judicial Academyhas come up with the complete exam preparation for the convenience of our aspirants. Wherein, we provide three options to our aspirants as –
| Offline Coaching Program | Online – Daily Live Classes Program + Recorded Lectures | Online – Recorded + Live Doubt Classes Program |
| --- | --- | --- |
| Small batch size | Get access of Live Online Classes + recorded lecture for the same | Get access of Recorded + Live Doubt Classes Program |
| Duration of 14 months | Duration of 14 months | Duration of 12 months |
| Fee – 1,20,000/- | Fee – 1,20,000/- | Fee – 1,20,000/- |
Here are some additional features given below which are provided for our all students.
1. Free demo classes online and offline to the aspirants for judicial or other law entrance exams.
2. Come up with state judiciary specific marathon classes and tests series.
3. 5 mains & 10 prelims questions to practice & answer writing.
Additionally, we provide the latest landmark judgments, case laws and monthly current affairs magazines to cover the general awareness which help to ace a test.